Zone 2 Visuals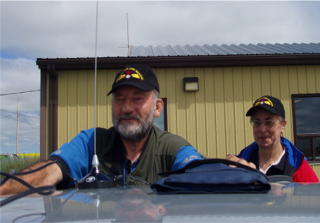 Numerous pictures have been taken both from aerial and ground views of our SAR/EX missions.
Contributors include Tim Pierce (Zone 1), Captain Tom Kolesnik (435 Sq.), Darryl Childerhose (Zone 2 former Zone Commander now Treasurer/Training Officer), Sean Currie (Zone 2 Spotter/Official Photographer), Maurija (Pinkie) Skansen and the webmaster.
The pictures are especially aimed for shut-ins who do not have opportunity to view search and rescue missions from the air and ground.
Some pictures are watermarked and may be available by contacting the webmaster.
(Wild) Bill and Ramona with Ground Homing at Souris Airport
Jim (Millionaire) Farthing setting up Ground Homing while Maurija (Pinkie) peers over