SAR H&R (Elphinstone/Keeseekoowenin/Wasagaming/Sandy Lake/Strathclair)
December 31, 2007:
This Search and Rescue Mission is currently classified.
SAR Grandpa (Assiniboine River/Glenboro-Portage La Prairie):
October 8, 2007:
This joint search involved one CASARA aircraft and Manitoba Conservation on the call from RCMP Carberry looking for an overdue grandfather who canoed with two grandchildren ages 12 and 13. The canoeists departed north of Glenboro along the
Assiniboine River and were expected at a point east of their departure location. CASARA aircraft Rescue 21 performed a Shore Crawl and continued to double its patterns over the meandering river. A Manitoba Conservation vehicle unit remained on standby and in communication with Rescue 21 near the river. The subjects turned themselves in at a farm off the shore of the River just minutes prior to Rescue 21 reaching them.
Further Details of the search remain classified.
| | |
| --- | --- |
| | |
| Enroute Track to CSP | River Crawl Track |
---
SAR Birdtail-Sioux (Birdtail-Sioux Reserve):
October 6, 2007 and October 28, 2007
This search was initiated by the Office of the Fire Commissioner (OFC) under the lead of Chief Dennis Bercier of Dakota Objibway Police Service (DOPS). The subject was a missing man from Birdtail-Sioux Reserve with the first search held on October 6, 2007 by one aircraft on a Shore Crawl and GSAR units on the ground from OFC. The search continued on October 28, 2007 with three CASARA aircraft performing Creeping Line Ahead, Sector and Shore Crawl pattern searches. CLA's were performed in perpendicular angles to achiever greater visual success. A CAP (Communication Air Platform) communicated with GSAR via VHF radio while relaying information and providing forward air command for airborne units.
Further Details of the search remain classified.
| | |
| --- | --- |
| | |
| Birdtail Sioux Reserve | Birdtail Sioux Reserve |
---
SAR Carberry (Carberry-Spruce Woods Provincial Park)
September 21, 2007:
This joint search involved one CASARA aircraft with GSAR from the Office of the Fire Commissioner under Souris RCMP's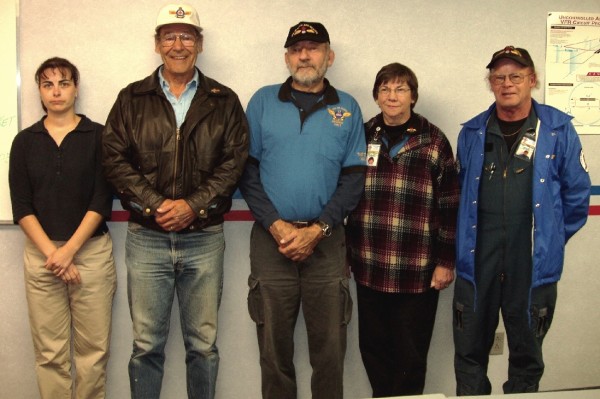 request searching for an elderly man with a medical condition. Fortunately, the subject turned himself in to GSAR crew and the CASARA aircraft directed to stand down.
SAR Carberry Team: Sheri Briggs (Base Command), Fred "Col Cobb" Eshpeter (Navigator), "Wild" Bill Tostowaryk (Pilot), Virginia "Blizzard" Dickson (Spotter) and Garry "Arch Enemy" Hadland (Spotter), missing is Kevin Choy
Further Details of the search remain classified.
---
SAR Recluse (Gillam/Churchill)
September 8, 2007:
This successful SAR involved joint operations with the RCMP and Manitoba Conservation. On the request of Zone 3's Keven Isles out of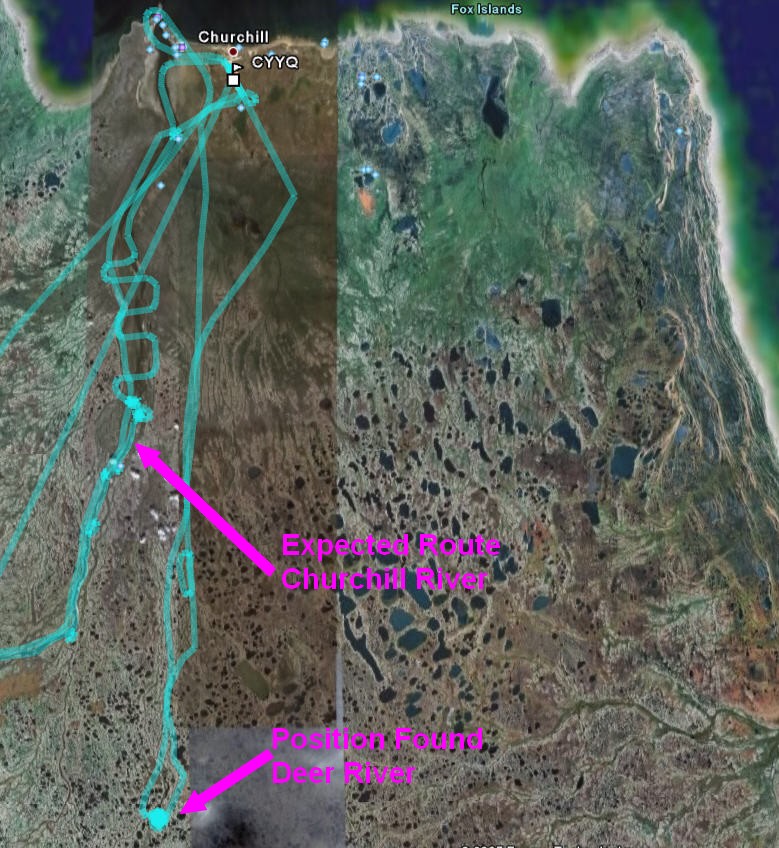 The Pas for transfer of command, RCMP Gillam requested air search capability from CASARAMAN for the search of an American man and wife team of canoeists overdue on a voyage from The Pas to Churchill. The subjects were last seen by another canoeist on Recluse Lake who satellite phoned the subjects request for a Via Rail schedule appointment and provided all of his remaining food to the them. Overdue, RCMP had completed a preliminary search with an RCMP Pilatus PC-12 and a chartered helicopter. CASARAMAN joined the search along the Churchill River as Rescue 21, performing a Shore Crawl and Night Search all the way to Churchill on Mission Day 1.
On Mission Day 2, the CASARAMAN team continued the Shore Crawl back south to their last visible point along the Little Churchill River (due to the approaching nightfall the night earlier) then up north on the Churchill River back to Churchill. A Manitoba Conservation Twin Otter simultaneously performed a Shore Crawl behind Rescue 21 then ahead. The CASARAMAN team also briefed with RCMP Churchill and their chartered helicopter on call-out and recovery procedures prior to dispatch. On the hunch that the canoeists may have taken a wrong turn, the team also scanned part of Mistake River.
After returning to Churchill, the CASARAMAN team worked on a hunch from RCMP Gillam and Churchill that the subjects may have proceeded on a different route, departing the Churchill River to portage to the Deer Lakes and north up the Deer River to perhaps join the train at M'Clintock Station.
MISSION DAY 2 SHORE CRAWL
In visibly scanning both the train track and the Deer River system heading south from Churchill, the team decided to search the Deer River singularly as the search scan area widened. With RCMP and the chartered helicopter north of the CASARAMAN team searching the Churchill River, CASARAMAN team's Fred Eshpeter (Col Cob) spotted a green canoe. With verification of the target by its colour description and description of the subjects and their clothing, CASARAMAN's aircraft circled the subjects who fluttered an orange signal. With confirmation, Rescue 21 called in the helicopter for recovery back to Churchill.
RECOVERY
In interviewing the subjects, the team was informed the overdue had researched the area and learned to eat water lilies and
water bugs to survive. Unfortunately, the subjects were overdue due in part due to the Deer River shrinking to 4" wide unlike their assumed depiction on maps. This led the subjects to portage over lengthy distances over the difficult terrain both for their belongings and then returning again for their canoe. Greater local knowledge, adequate food supplies, communication equipment and communication of their travel plans would have greatly aided the subjects' situation and the search and rescue effort.
SAR Recluse: Kevin Choy (CMD, Pilot Rescue 21), Eric Haugen (subject1), Fred Eshpeter (Spotter Rescue 21), Julie Haugen (subject2), Corp. Jeff Asmundsen (RCMP Churchill) and Ken Fox (Navigator Rescue 21)
More in the Media Section.
Mission Day 2 Search Topography Flora (Churchill River)

Churchill River
Searched camp-site

Spillover

Churchill River rapids

Burned Flora
Target Acquisition and Recovery

Flora

Train
First Sighting

Acquisition

Overfly and Signal

Helicopter Rescue
---
SAR Lost Beaver (non-assigned/intercept airborne mayday call) The Pas:
May 7, 2007:
Enroute to CJR3 The Pas Grace Lake in C-GWNT for non-CASARA related Judicial Services work on Monday, May 6, 2007 from Shoal Lake CKL5 encountered and aided lost Beaver aircraft C-FFLN (DHC-2 MK. I). Heard Winnipeg FSS attempt to contact FLN numerous times beginning after 1600Z, including a request to squawk transponder if FLN cannot transmit back.
At 16:32Z, I called Grace Lake to initiate approach location including distance from airport and ETE.
Winnipeg FSS responded with immediate request to look for and listen for FLN. Indicated to FSS that C-GWNT was CASARA aircraft not on CASARA flight plan but ready to activate on request.
At 16:34Z, received weak distress call (2/3) from FLN to "GWNT" and initiated relay to FSS on location.
FSS requested GWNT to "standby one" for simultaneous Westjet 750 contact.
Westjet 750 simultaneously received call from FLN but failed further communication after first contact and after contacting Centre for relayed directions.
At 16:35Z, relayed to FSS that FLN had opposite readings of compass and directional gyro with a failed gps and that the pilot indicated he had no idea where he was but that he had "four hours of fuel" and "not to worry" as he would continue to follow a highway until he recognized a landmark. The pilot believed he was 15 minutes from CJR3.
A secondary relay was made that the pilot believed he was 20 to 30 minutes from CJR3 and "not to worry" as he had "four hours of fuel".
A third relay was made that the pilot believed he was still lost and did not recognize either the highway he was on nor any recognizable landmarks. He also could not identify his direction of flight.
At 16:46Z Military Hercules "Atlas 41" enroute between Yellowknife and Winnipeg twice obtained contact with request to pilot to count to ten both times for a DF steer.
Heard "Atlas 41" attempt to continue contact with FLN but to no avail.
GWNT landed at CJR3 at 16:52Z.
Contacted FSS at 16:54Z to close flight plan and indicated I would be on standby with cell phone.
Went into The Pas Flying Club/CASARA FBO and met Ivan Young of Zone 3. Relayed information to Ivan.
At 17:27Z called Murray Harvey and left message of event--as notification only.
At 19:36Z received call from Murray Harvey and passed information to him.
Next day, Tuesday, May 8, 2007, called Winnipeg FSS at 18:45Z for flight plan and upper winds. Reached "Jason" of FSS who appreciated relays from FLN and indicated that lost aircraft was east of The Pas and never reached The Pas but eventually found its way back to Flin Flon.
At 19:37 began communication with Butch Allen flying LMC from Dauphin after clearance call 15NM NE of Swan River and updated him.
Closing Remarks
Although winds were 280 25 gusting 35 and celing was Broken 4000, the sun was easily identifiable and could have been used for guidance. Coincidentally, on the day earlier on Sunday, May 6, 2007, Zone 2 practiced a lost Beaver aircraft flying from Dauphin in an similar scenario.
Sincerely,

---