Spruce Woods GSAR (Ground Search and Rescue) Joint Exercise with the Office of the Fire Commissioner, The Rangers, RCMP and 435 Squadron, 17 Wing
August 26, 2006:
This complex operation involved Larrie Happy (VP CASARAMAN rtd.) and John Davidson (President CASARA) organizing involvement of CASARA aircraft out of CYBR Brandon airport with GSAR Command (Spruce Woods remote) and a multitude of various ground search teams.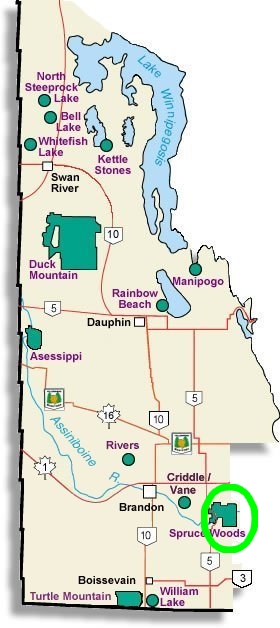 Under Spruce Woods Command, the first phase of the CASARA air mission involved an initial morning reconnaisance track crawl along the eastern side of Shilo Military Base to Pilot Mound then a return to CYBR for refuelling.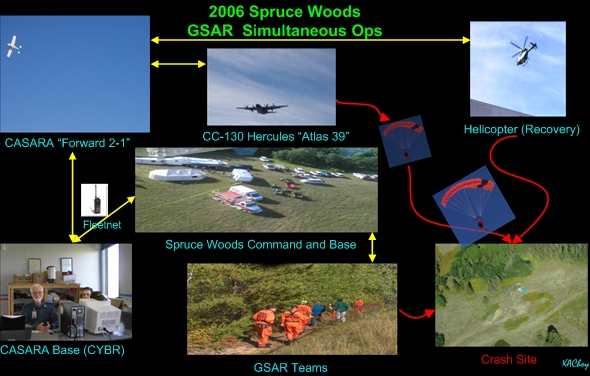 The second phase of air ops involved search of a simulated DC-3 crash in Spruce Woods Park. Constructed with meticulous detail by various volunteers and Larrie Happy of CASARAMAN with "victims" staffed by the Office of the Fire Commissioner, the facsimile of an actual crash site was remarkably detailed from the air as shown in the photos below.
After detection and the NOCL (Notice Of Crash/casualty Location) to Spruce Woods Base operated by Lt. Darlene Searcy (CASARAMAN Provincial Training Officer) and John Davidson, "Forward 2-1" performed forward air command in issuing the NOCL and a possible parachute drop location to "Atlas 39", a CC-130 Hercules out of 435 Squadron, 17 Wing which had completed a morning rotation of Spotter training with Zone 1 Winnipeg. Under Captain Saunders, the timing and execution of the heavy military aircraft interception with Forward 2-1, a Cessna Cardinal, over the target area was critical in conducting a swift and coordinated safe recovery of crash victims.
The Hercules team expedited various drops over the crash site including parachuting SARTECs (Search and Rescue Technicians) between forest to the immediate crash clearing to quickly assess and administer medical aid. With Hercules-to-SARTEC on the ground radio communications established, Atlas 39 relayed the SARTEC's condition of the injured through Forward 2-1 to CASARA Base which then contacted Spruce Woods Base/Command via Fleetnet radio for the final recovery phase. Spruce Woods Base/Command then released helicopter transport of the injured to base for further medical evaluation and aid. Over the rescue period, Forward 2-1 remained airborne working as Communication Air Platform (CAP) in relaying communications between Spruce Woods Base ops, CASARA Base Ops and rescue aircraft while GSAR units conducted their SAR ops directly from Spruce Woods Command.
Ken Fox and Sean Currie at CASARA Base

Crash site

Helicopter Ops/recovery

Hercules on-sar

Base Command
On behalf of John Davidson (President CASARA), Larrie Happy (VP CASARAMAN rtd.), the CASARA Base ops of Ken Fox, Fred Eshpeter, Sean Currie, Jim Farthing and Spruce Woods Base ops Darlene Searcy, the Forward 2-1 air team of Navigator Mary Ritchie and Spotters Joan Oscar and Maurija Skansen, I thank Spruce Woods Command, the Office of the Fire Commissioner and their GSAR units for their invitation to participate in a most successful and enriching joint search and rescue exercise. CASARA Manitoba also thanks Captain Saunders and his Hercules team from 435, 17 Wing for their tremendous effort and coordination in advancing this unified mission with us--all of which was accomplished in successful harmony and efficiency towards the goal "that others may live".

VP CASARAMAN