Search and Rescue Civil Operations (SARCOP)
Volunteer Search and Rescue Association (VSARA)
Over the week of September 15 to the 21 of 2002, I was very fortunate to be chosen among the first eight selected for participation in the newly created Volunteer Search and Rescue Air Crew (VSARA) Thermal Imaging (Forward Looking Infrared--F.L.I.R.) and Nite-Sun course. Gerry Roehr of CASARA Zone 1 Winnipeg worked hard to get team representatives on the course.
The course trained us in the Royal Canadian Mounted Police's (RCMP's) "K" Division (Alberta) Air Section's Bell Long-Ranger IV helicopter C-FMPK. The program, funded at approximately $700,000 by the National Search and Rescue Secretariat through New Initiatives Funding, embarks a new initiative to train civilian search and rescue volunteers in the use of thermal imaging equipment in the search for lost people. Top level training was led under the direction of Cst. Rick Tyefisher and his team of Edmonton RCMP's Air Section.
| | |
| --- | --- |
| | |
| FLIR | NITE-SUN |
The imaging equipment cost approximately $400,000 CDN and is permanently mounted on C-FMPK. Two flat panel monitors, one in the front of the cockpit and one in the rear enabled us to view in the CCD live real time mode and in the FLIR real time mode. A remote control with a "coolie-hat" thumbstick provided us with control of the FLIR imager in elevation and clock positions while the pilot positioned the aircraft.
From the cold September day when RCMP Pilatus PC-12 C-FMPY picked both Gordon Foote (Zone 2 Casara Spotter) and I at Brandon Airport CYBR, our initial training composed of enlightening videos and helicopter safety operations and procedures. A brief introductory flight, followed by a visual ground search exercise led us to the ground FLIR training using the remote control and flat-panel displays of the helicopter. This was followed by actual daylight FLIR tracking exercises using both stationary objects and moving cars and volunteer cows among other objects. I enjoyed the panning and zoom functions of the FLIR and especially enjoyed rotation tracking around an object while the helicopter circled the object for inspection.
We concluded our training with an evening session over a farmer's field with edge foliage. I evaded being found as a target by cooling my flightsuit, forming myself into an odd shape and hiding under wet foliage.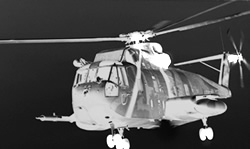 Each of the candidates actively participated and I thank the Air Section Instructors and Crew of Edmonton "K" Division for a most enlightening experience.

Click the RCMP logo for RCMP's "Air Section"....